Meet the local speakers who will grace the #RemoteLearningSummit2022!
Hosted by Remote Classroom and Remote Learning, #RemoteLearningSummit2022 presents an opportunity for home learners and providers to share their insights as we shape the future of Remote Learning.
Through forums, listen to the insights of our local and international speakers as they discuss the trends of Remote Learning as we enter the new year.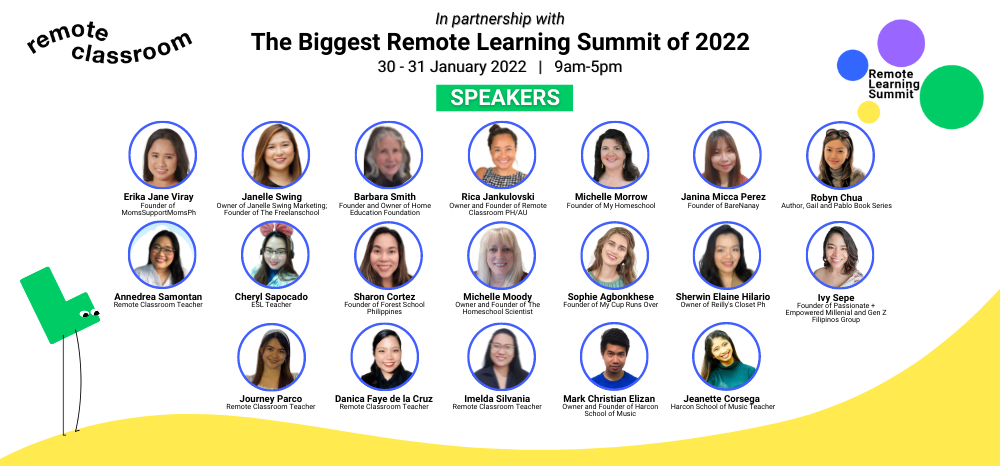 We are proud to present these local speakers who will be gracing #RemoteLearningSummit 2022:
Rica Jankulovski
Rica is the founder of Remote Classroom Australia and Philippines, which emulated her passion to practically teach her kids, Jay and Bill.
With the topic "Empowering Learners with Individualized Self-paced Learning Approach," Rica will talk about how Remote Classroom has garnered recognition ever since its inception, and how it has helped families all around the world to cope with our current situation.
Jinnoe and Quennie Gavan of The Filipino Homeschooler
Jinnoe and Quennie are the owners of The Filipino Homeschooler, a blog wherein they share their experiences as homeschooling parents to their only son, Gab. In this summit, they will share their tips in becoming the best homeschooling parents to your child.
Cheryl Sapocado
Teacher Cheryl is currently an online English as a Second Language (ESL) Teacher. She recognizes how mastery in English has opened her doors to a lot of opportunities and benefits. Cheryl hopes that through this Summit, she can help the listeners to jumpstart their careers this 2022.
Sharon Cortez of Forest School Philippines
"Shawi," as Sharon likes to be called, is an accredited Level 3 Forest School Leader under Archimedes Forest School, a UK-based forest school training provider. Prior that, she has co-parented her nieces and nephews. In this Summit she will tackle how Forest School helps parents raise confident, independent, resilient, and creative children.
Jenina Micca Perez
Being a mom is not an easy feat. This 33-year old "nanay" has been an inspiration to a lot of her readers who are also stay-at-home moms. Bare Nanay became her outlet to talk about my life as a mother and wife. Now, she talks about travels, food trips, brands, and her transition and journey to the #WaHMlife (Work at Home Mom Life)!
Not only that, she is also an Arugaan-trained Breastfeeding Peer Counselor, a homeschooler, an Admom for Buntis Brigada Support Group Ph, a Pregnancy and Motherhood support group, and the founder of Quezon Nanays, a support group for Quezon-based moms.
Through this summit, she hopes to impart to the parents ways to establish parental support to motivate your kids in homeschooling.
Sigrid Lo
Sigrid is the owner of Bacolod Mommy blogger. She homeschools her kids and covers events and travels. After finishing her degree in Mass Communications, she became a news writer and pursued a career in advertising as copywriter and graphics designer. She was a contributing food writer to COOK Magazine.
Ivy Sepe
Ivy is a homeschooling "mompreneur" and empowering coach for Happy Breadwinners Philippines. By joining this year's summit, she hopes to inspire more moms and women like her to be physically and mentally prepared to be homeschooling parents.
Robyn Chua Rodriguez
Robyn is a Speech-Language Pathologist. She is passionate about teaching children, discipleship, and advocating for intentional parent-child interaction. She is happily married to Paul and they are blessed with a baby daughter, Haniah.
Robyn has been incorporating reading to her speech therapy students. It increases their student's vocabulary, improves their comprehension, and teaches them social skills. In 2017, she was able to self-publish When My Friend Wins, wherein they've sold more than 19,300 copies.
Erika Jane Viray
Erika turned away from her public teacher job to become a full time homeschooling mom to her little one, Allyka Faith. In 2019, she took the leap of faith to work at home. Now, Erika works as a Social Media Manager, a Virtual Assistant and a blogger.
Working at home changed Erika's life as she juggled several roles in a day–dealing with their household, being a mom and pursuing her passion, writing and blogging.
In this summit, she will be talking about "Raising Your Homeschooler's Self-Esteem and Confidence."
LevelUp Tutorial
LevelUp Online Tutorial is an online platform that provides academic support and learning advancement in a wide range of subject areas to students through the provision of individual and small group online tutorial sessions, and workshops on a variety of subjects.
For this summit, LevelUp will be represented by its co-owner Sir Val Anghelito R. Llamelo.
Sherwin Ellaine Hilario
Sherwin, who will talk about "Empowering Mum Entrepreneurs in the Digital Age," is a wonderful wife to her husband and a loving mother to her two girls. She is an entrepreneur, a PCOS fighter and an advocate for breastfeeding.
Imelda Silvania
Teacher Mel has been teaching English as a second language to children from countries all over the globe.
Through her experience, she was exposed to different nationalities, language and culture. As she teaches, she picks up priceless knowledge from her students. She hopes to inspire attendees that remote learning is a fruitful task with a lot of gains throughout.
Journey Parco
Hailing from Naga City, Camarines Sur, Journey has been teaching for 13 years now. For her, remote teaching is the most relaxing job she has ever had. It allows her to teach at the comfort of her home to children all over the country. More importantly, she has more time for herself.
Mark Christian Elizan and Jeanette Corsega Harcon School of Music
Harcon School of Music believes that learning Music and Arts does not have to be put on pause during remote learning or homeschooling.
After 6 years in the field, Harcon School of Music have produced lots of musically gifted talents that will dominate the industry in the coming years. They hope to encourage parents to inculcate music in homeschooling.
Janelle Swing
Founder of Janelle Swing Marketing and The Freelanschool, Mommy Janelle is the ultimate supermom. She proves that you can find balance between working and attending to your children's need.
Currently, she is an agency and freelancing mentor.
She believes that remote working and learning is a game-changer for parents like her. She can provide for their family and teach their child at home.
Danica Faye
Teacher Nica always dreamed of being a teacher. For her, it's an honor to have the potential to transform lives. She believes teachers can make an impact in every student's life.
Being able to teach students from all over the world from the comfort of her home makes remote learning most rewarding for Teacher Nica. In this Summit, she hopes to motivate aspiring teachers in Designing an Engaging Lesson In a Remote Learning Setup.
Annedrea Samontan
Annedrea, one of Remote Classrooms most loved teachers, will talk about the benefits of online learning. In her talk, she will discuss how Remote Classroom has helped shaped the minds of our home learners.
Other international speakers who will join the event are:
We hope to see you there! Mark your calendars for #RemoteLearningSummit2022 on January 30-31, 2022, time. You may register now and stay updated on our Facebook Page.