The key to success in remote learning is staying motivated. The same thing goes for experienced online students and those transitioning to the online classroom. The absence of the traditional classroom constants can trigger motivation loss, making you lose focus to complete your coursework.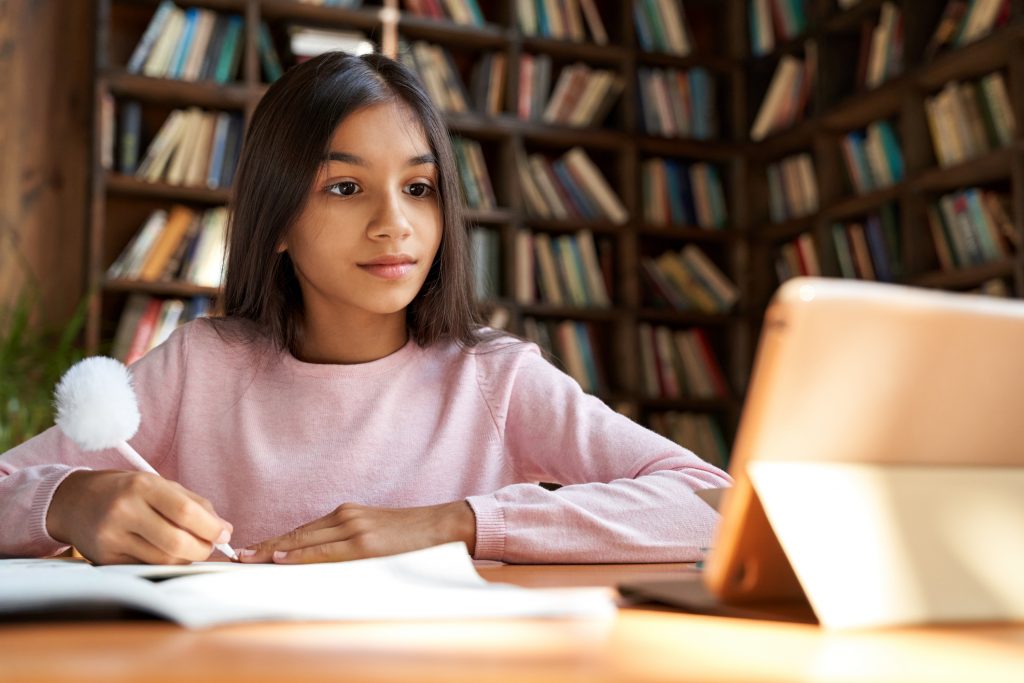 A student attending an online class. Credit: insta_photos on iStock.
So here are some techniques to keep yourself motivated in remote learning.
Set Goals.
Start with small, attainable objectives for each class to avoid getting discouraged and overwhelmed. Create a spreadsheet to track your progress or write them on sticky notes to keep track of your progress. This procedure will help you reach your tasks one step at a time.
Create a Schedule.
Develop a plan to stay on task so you can complete your coursework while still allowing time to enjoy the things you like to do. Start by noting down your deadlines on the calendar or notes and create a schedule with break time in mind.
Timeline with required study hours will also help you discipline yourself without compromising what you need to learn. Having a plan will increase your likelihood of success and will help you finish your tasks.
Make an effort to interact with others.
You won't be able to see your classmates or instructor face to face if you take remote learning classes. Make it a practice to communicate with your peers and professors via instant chat, email, Google Hangouts, discussion forums, or phone to avoid feeling isolated. This will help you maintain a positive attitude and establish a sense of responsibility for your schoolwork.
Share Knowledge.
Talk to your friends and family about your schoolwork. Make connections between what you're learning in school. You might gain a sense of pride and accomplishment by sharing your expertise with others.
Maintain a healthy lifestyle.
Taking care of your emotional and physical well-being can help you perform better in school. As you plan out your schedule, make sure to include regular exercise, nutritious food, and enough of downtime. If you're not sure where to start, contact the recreation or counseling department at your school.
Be realistic with your expectations.
Concessions on screen time aren't the only changes parents may have to make. The truth is that life in a pandemic is difficult for all of us. This is a significant change for both children and adults, and we must expect some tension and problems at this time.
As you negotiate this new normal, give your child — and yourself — some grace. If your child has had a particularly trying day, you may decide that a break is more important than another hour of geometry. If you're frustrated, try to avoid power struggles and take a break. After all, good mental health is necessary for learning.
Reward yourself for your efforts.
Now and again, everyone deserves a pat on the back. Take time to celebrate your accomplishments when you finish your education, whether you finished a tedious textbook chapter or aced an exam. Keep a positive mindset and stay motivated by celebrating your victories and taking breaks.
Make it more enjoyable.
For many children, online education is similar to traditional school — but without the fun elements, such as playtime with friends or lunchtime hangouts. Find methods to bring some excitement back into their days to keep them interested.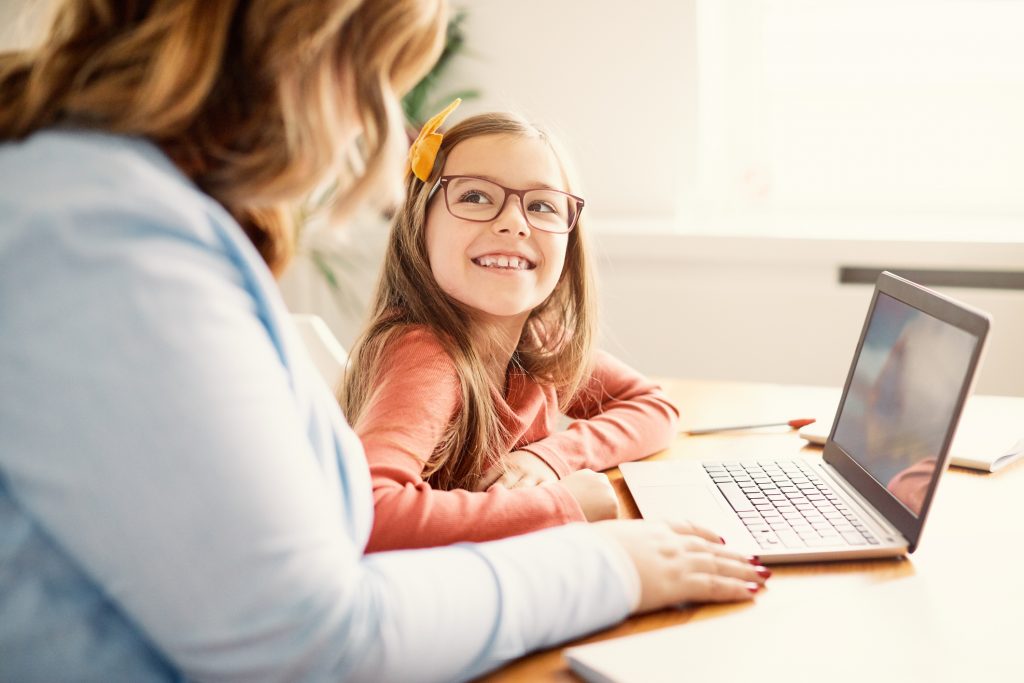 A mother and daughter having fun and talking. Credit: fizkes on iStock.
At recess, they may play a socially isolated game of hide-and-seek with the neighborhood kids or spend time video chatting with friends. Parents may have to accept more screen time for their children to interact with their peers, and this is just the era we're in right now; it won't remain forever. Just remember to strike a balance between screen and non-screen time.
Takeaway
For those with a lot on their plate, online classes are a terrific option. While the flexibility of distance learning makes it ideal for persons with career and family commitments, the self-paced nature of the program usually requires greater initiative on the student's behalf.
Feeling overwhelmed or falling behind can produce stress, which is incredibly demotivating. While shifting from a negative to a positive mindset is challenging, it will help you stay motivated when you don't want to do an assignment or check in for a lecture. You'll find that staying positive during your online course experience makes things go more smoothly.