Tune in to STRENGTHEN #RemoteLearningSummit2023 globally!
A newer, blended version that empowers parents, learners, and online educators to strengthen the Remote Learning Community.
Cheers to the successful #RemoteLearningSummits that prospered this year and in 2021! The imparted remote learning experiences, support, knowledge, and opportunities definitely empower learners, parents, and online educators.
Remote Classroom does not stop just yet. Your immeasurable support and interest fueled our enthusiasm to foster more opportunities #RemoteLearningSummit this year to keep you empowered by the remote learning trends in this digital age.
Day 1: Onsite Event to strengthen the Remote Learning Community for Mums and their children
This year's on-site summit will be held at Le Don's Garden in Silang, Cavite, we hope to bring the best learning experience to parents and their children. It is going to be a hybrid Summit that gives opportunities for moms and their children, the learners, to gather together and enjoy the fun of learning with Remote Classroom teachers Onsite and Online. Yes, you heard it right! On the 29th of January, it is going to be a Face-to-Face gathering cum learning.
On-site Activities for Moms and Kids :
Yoga & Meditation
Live Storytelling
Math Games
Illustration Class
Brands and Education Exhibits
Cooking Class and more
Day 2-3: Free Live Webinars of Empowerment
In addition to the face-to-face event, a digital remote learning experience on the 30th and 31st of January will showcase live webinars of impeccable speakers with immense achievements in the virtual world- they are moms thriving successfully in the Remote world while promoting remote learning for their children; hence, this event is much-awaited for freelancers, especially moms looking forward to achieving a remote job opportunity that they can juggle along with homeschooling their children.
Here are a few hot topics up for the upcoming #RemoteLearningSummit2023.
Enhancing Mompreneur's Skills, Lifestyles, and Family Relationships
Learn the Digital Marketing Skills for Mompreneur Brands
SuperMoms Building a Proactive Remote Learning Community for Parents and Children
Nurturing Mom's Timely Skills for Remote Opportunities

SupahMoms Overcoming Motherhood Strains

Career Building and Child-Rearing Management for Full-time Mums
Adapting a Remote Learning Set-Up That Works for the Young Learners
How Mums Cope with Global Developmental Delay Intervention for Children
Practical Parenting Styles with the Asianparent
Get to know our speakers who will bring timely tips and knowledge.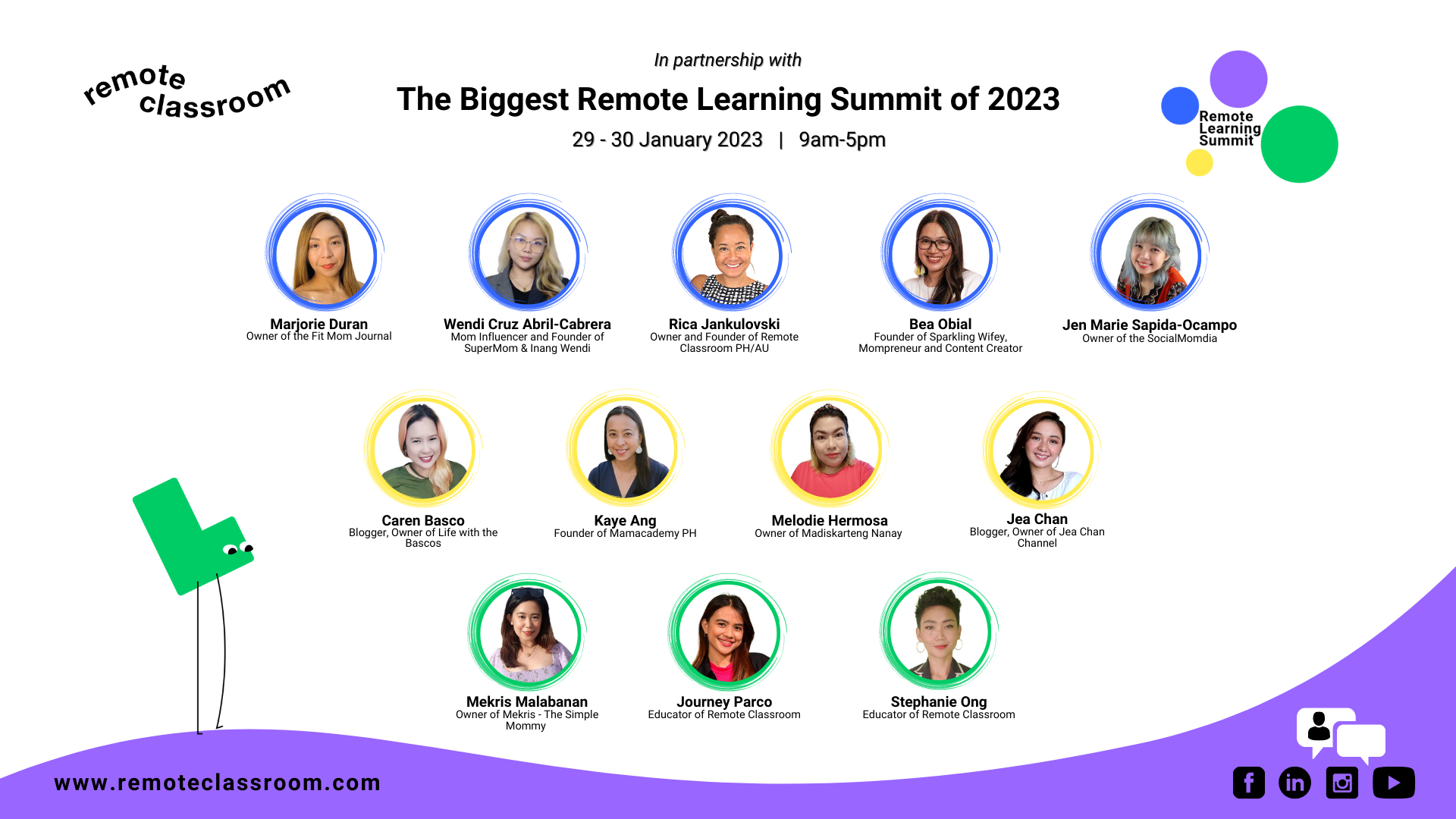 Registration Process
This is a must-see #RemoteLearningSummit ever for a one-of-a-kind Summit of Remote Learning and Opportunities. Let us join hands in promoting a strengthened Remote Learning Community that empowers parents, learners, and online educators.
COME, WITNESS, ENJOY THE FUN of the
first-ever digital learning cum onsite Remote Learning Summit that strengthens the Remote Learning Community!
📝 REGISTER NOW: https://www.eventbrite.com/e/the-biggest-remote-learning-summit-2023-tickets-484247034917
Hurry and mark your calendars for the Hybrid-Remote Learning Summit 2023 on January 29 to 31, 2023. Stay tuned for updates on Remote Classroom's Facebook page and website. The countdown starts now! See you there.
Remote Classroom is unceasingly empowering learners and parents in remote learning as an alternative efficient learning method and in overcoming the challenges posed by the magnitude impact of online education. The sudden change from Traditional Learning to Remote Education- the new normal education trend, must have challenged learners and parents, making a breakthrough in hosting the biggest Remote Learning Summit in the Philippines.
—————–
If you missed the 2021 and 2022 Remote Learning Summit, you can watch the recorded webinars on Remote Classroom YouTube Channel.
How to Be Physically and Mentally Prepared for Homeschooling Parents
Empowering Mum Entrepreneurs in the Digital Age
Raising Your Homeschooler's Self-Esteem and Confidence
Related: REMOTE LEARNING SUMMIT 2022: Bigger, More Exciting, and More Fun!
Here is the recorded webinar of Michelle Moody, the owner, and founder of The Homeschool Scientist, during the 2022 #RemoteLearningSummit.